CARESTREAM MILLING MACHINE
With the CS 3000* milling machine, restorative designs are processed and intelligently milled into precision crowns uniquely designed for our patients in 15 minutes or less.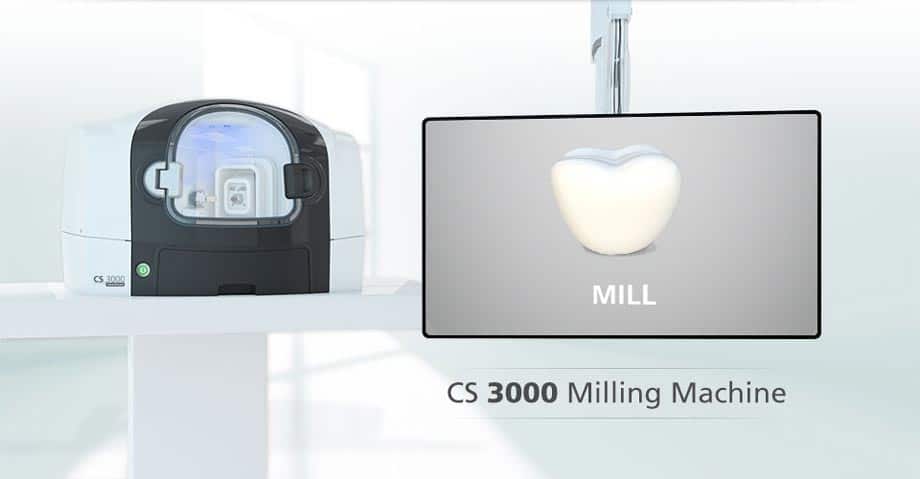 Single-Visit Restorations
Eliminating the need for temporary crowns and multiple appointments, dentists using the CS 3000 can complete restorations in as little as one hour. Single-appointment restorations save patients time and improve patient acceptance rates and satisfaction.
Precise Milling
The CS 3000 features a 4-axis brushless motor that produces high-quality restorations with +/- 25 um accuracy. The unit's high-speed and vibration-free milling ensures smoother surfaces for more durable results. The average milling time for a crown is less than 15 minutes.
Robust Technology
The unit's sturdy  and robust design provides high torsion resistance with minimum deviation to ensure precision milling, even after years of use.
Versatile Indications
The CS 3000 mills single tooth restorations covering everyday needs (full crowns, inlays and onlays) and uses industry standard all-ceramic, hybrid ceramic and resin-based materials.
The CS 3000 is already VITA certified to mill VITABLOCS® Mark II blocks (monochromatic feldspar ceramic blocks).

Facts
Precision crowns in just 15 minutes or less
Chairside-friendly design with intuitive user interface and closed water system
Brushless motor for fast milling with increased accuracy and a smooth crown surface
Blocks are inserted without tools and a single drill provides vibration free milling for increased noise control